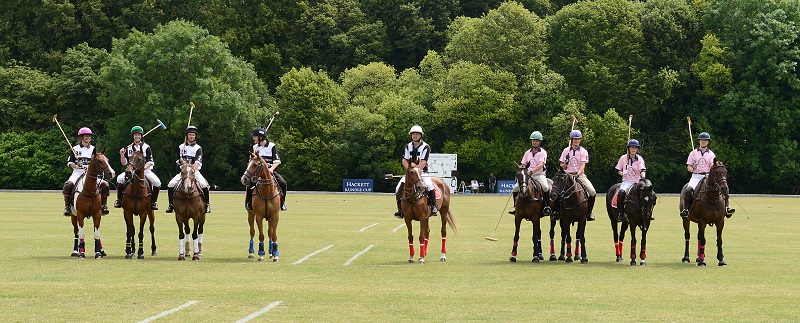 The sun shone all day for the Rundle Cup on Saturday 8th July 2017 at Tidworth Polo Club.  The INSPIRE Foundation fielded two teams sponsored by our main sponsors Quilter Cheviot Investment Management and Baylis & Harding.  They competed for the Benney Memorial Trophy remembering Gerald & Janet Benney co-founders of INSPIRE Polo.  This year the team captains were husband and wife Maj Gen Robert Talbot-Rice and his wife Elspeth and included able bodied and disabled players who concluded proceedings with a gentlemanly 2 – 2 draw.
This year our players included Captain Guy Disney of the Light Dragoons who was wounded in action in Afghanistan and subsequently lost his right leg; he has gone on to establish himself as a fine amateur jockey.  In addition Doctor Frances Townend played for the Quilter Cheviot Team despite having suffered a spinal cord injury in 2013.
This was followed by a wheelchair relay started by Freddy Tylicki whose infamous four horse pile up on 31st October 2016 at Kempton Park caused him to break 18 ribs and his lower back resulting in permanent paralysis.  He and his lovely mum Irene were welcomed with rapturous applause by the large grandstand crowd; the race was won by INSPIRE's surprise team with members especially chosen for their youthful svelte physiques.  We then hosted the Army's Royal Electrical & Mechanical Engineers Freefall Team who dropped in right in front of the grandstand before the Richard Griffiths Two Furlong dash.  This exciting three horse race was won by Therese Rijckevorsel, a Swedish three day eventer supporting us for the fifth year.
One hundred and eighty INSPIRE guests then enjoyed a marquee drinks reception with most of them staying for a delicious three course lunch prepared by Emma Harrison Catering.  The beautifully decorated marquee was full of fragrant blooms expertly arranged by Daphne Smith and her team of helpers.  At the end of the day our guests were able to take flowers home for suitable donations which added to the blossoming kitty.
An auction and raffle of gifted lots raised £5000 the highest bid being £1400 for a trip to the Bale Lodge game reserve in Ethiopia and owned by Guy and Yvonne Levene whose son Max suffered a severe spinal injury as a rugby playing school boy. We were also given a wonderful 'Day on the Gallops' prize including dinner bed and breakfast with a morning at Kingsclere with the Balding family which raised a further £650.  Approximately £10,000 was raised in total from the day.
Photos by Karen Hitchlock…
karenhitchlock@gmail.com