Doctor Ed Chadwick BEng (Hons), PhD, MIPEM, FHEA - University of Aberdeen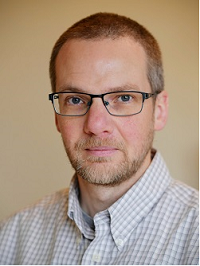 Dr Chadwick is a Biomedical Engineer in the School of Engineering at the University of Aberdeen. His research interests are in biomechanics, computer modelling of human movement, and rehabilitation engineering. He has a particular interest in shoulder and arm function, and the development of assistive technologies for the restoration of function in people with spinal injuries. He enthusiastically agreed to become a member of INSPIRE's National Scientific Committee in May 2019.
After gaining a first-class degree in Mechanical Engineering at Nottingham University, he went on to complete a PhD in Bioengineering at the University of Strathclyde in Glasgow. Following international post-doctoral positions at the Technical University of Delft in the Netherlands, and Case Western Reserve University in Cleveland, Ohio, he returned to the UK in 2008. He was a Lecturer in Biomechanics at the University of Aberystwyth until 2012, and Lecturer / Senior Lecturer in Biomedical Engineering at Keele University until 2019.